2022 Spring Fundraiser
Your Small Monthly Gift Makes a Big Difference!
We are a nonprofit ministry on a mission to deliver free Bible studies to inboxes worldwide. If you aren't familiar with our Living by Design Bible studies, here are a few things that set us apart:
Our Bible studies are available online, and anyone, anywhere, can access them for free.

Our Bible studies are available on-demand to help you fit Bible study into your busy schedule.

Our Bible studies take just 15-minutes a day, 5-days a week to complete.

Our Bible studies are exegetical (Bible-focused and Scripture-rich).

Our Bible studies are packed with free digital gifts to engage all your senses.

Many studies include an Audio Version of the daily devotional (+ Scripture reading).
**Want to learn more about Living by Design Ministries? Watch this brief 3 ½ minute overview video by founder and Bible study author, Sarah Koontz, followed by testimonials from our Bible study participants.**

As a 501(c)3 nonprofit ministry, we are supported by the freewill offerings of God's people.
We view all our fundraising efforts as an opportunity to invite our community to participate in God's provision for this ministry.

Although we are immensely grateful for our major donors, what we really need is an army of people who are willing to join our Discipleship Team and invest just $10, $20, or $30 a month in our free Bible study ministry.
If just 10% of our readers donated $10+ per month to this ministry, 100% of our financial needs would be met.


Also, by engaging an army of small individual donors we are creating a sustainable fundraising model and securing our future as a 501(c)3 organization.
During our Spring Fundraiser (May 10-31, 2022), we hope to engage 40 new recurring donors and an additional $500 per month in funding ($6000 per year) to support our growing ministry.
Will you prayerfully consider becoming a financial partner in our mission to deliver free Bible studies to inboxes around the world?
If you decide to be part of the 10%, your monthly gift will help us disciple more people through our free Bible studies, SOULfood e-mails, and uplifting blog posts.
Discipleship Team members also receive monthly video updates, early access to all of our free Bible studies, an invitation to a private Facebook group, and the satisfaction of knowing that they are an integral part of our ministry team.
As a thank you for your early participation in this fundraiser, we will send a Living by Design Tote bag to the next 10 families who set up a monthly recurring gift of $10+.
As a small non-profit ministry, we are fully dependent on the free-will donations of our community members. Without the financial support of our Bible study community, we cannot continue our work. Thank you for giving so we can continue to give!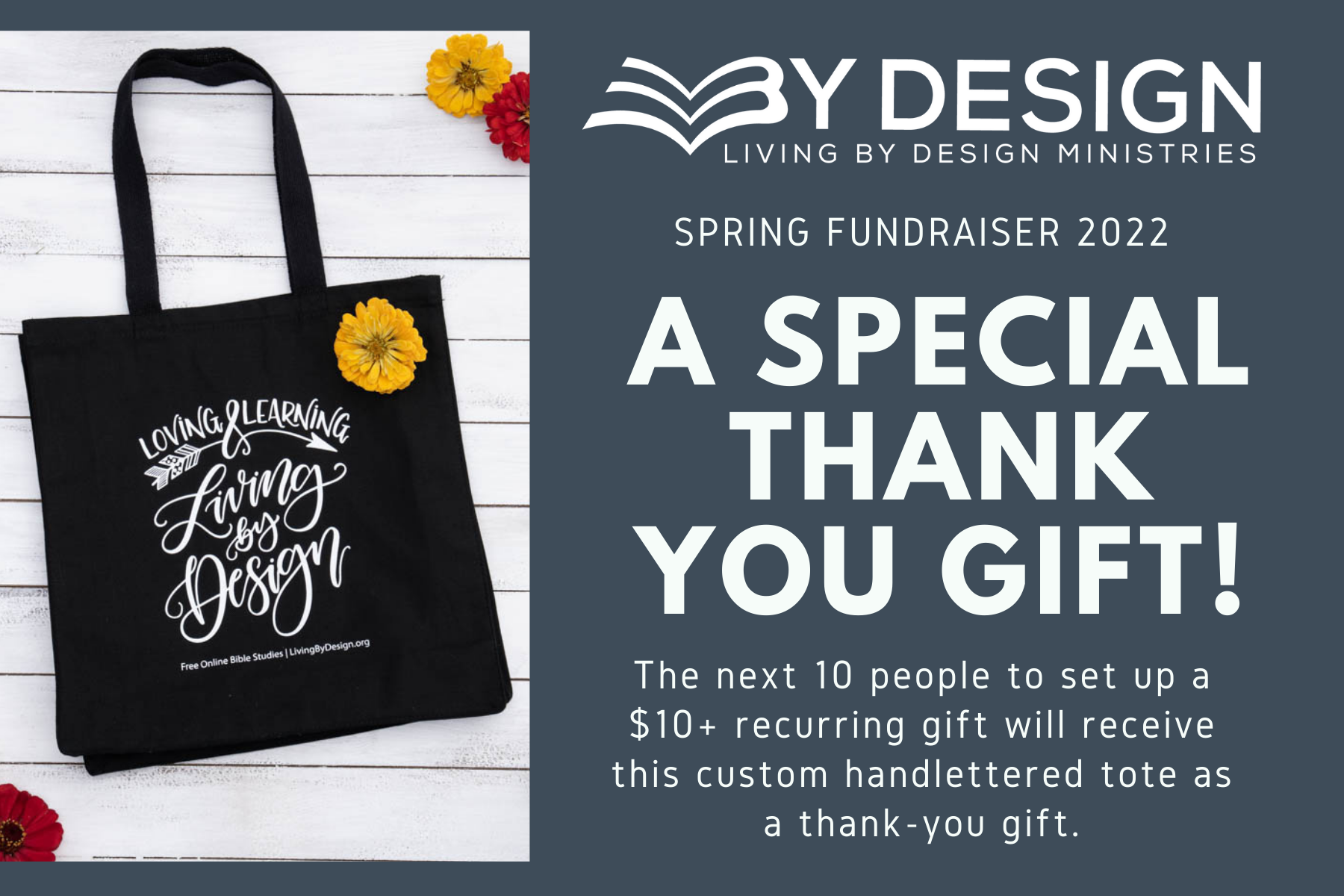 **Thank you gifts will be shipped in early June to USA shipping addresses only.